Ram 1500 vs F150 Comparison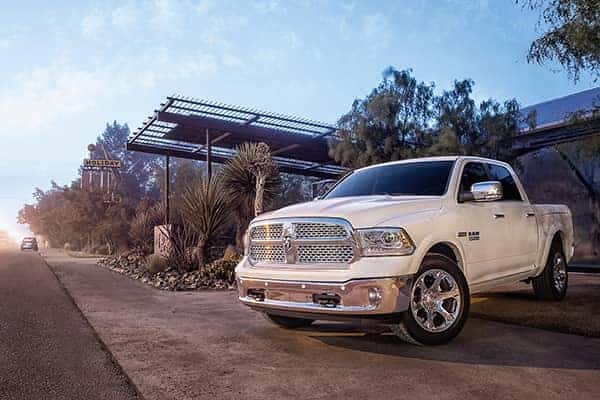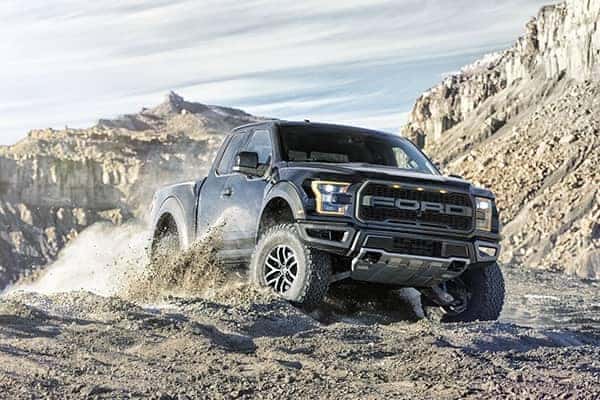 The Ram 1500 and Ford F-150 are not only the two best selling trucks in the US, they're also two of the best selling vehicles in the country period. These high-power trucks are similar in many ways, but both find ways to distinguish themselves from each other. Ram models, for instance, have more technology and storage features; the Ford meanwhile, has focused solely on towing and hauling capacity.
For many, the choice between the Ram 1500 and Ford F-150 comes down to brand loyalty, but a closer inspection of the details reveals the advantages of the Ram 1500 as the perfect light-duty truck to fit all your needs.
First, the trims and features of the Ram 1500 outnumber the F-150. Ford structures their trims so there are only six of them, and you can add most features to trims a la carte. For Rams, however, to access most packages, you choose a separate trim (there are some exceptions). This simpler approach means there are many more trims from which to choose.
2020 Trim Options
| Ford F-150 | Ram 1500 |
| --- | --- |
| XL | Tradesman |
| XLT | Big Horn |
| Lariat | Laramie |
| King Ranch | Laramie Longhorn |
| Platinum | Rebel |
| Limited | Limited |
| | |
| | |
| | |
| | |
Power
Ram knows that you buy trucks because of their power. So, of course, Ram is always ready for the inevitable question: how does the power of the F-150 stack up against the Ram 1500?
F-150 Engine vs Ram 1500 Engine
The base engine of the Ford F-150 does have power. Its 3.3-liter V6 engine has 290 horsepower and 265 pound-feet of torque. On top of that, Ford has five other high-power engine options. Among them, the traditional V8 option, which has 395 horsepower and 400 pound-feet of torque.
The Ram 1500 compares favorably. The Ram 1500 base engine is a 3.6-liter V6 engine with 305 horsepower and 269 pound-feet of torque and a 6,730 pound towing capacity. But if you need more power, the Ram 1500 has more than Ford's top-level engine. The optional Ram 1500 V8 5.7-liter Hemi engine pushes 395 horsepower and 410 pound-feet of torque with a towing capacity of 12,750 pounds, along with two other powerful engine options available. This year there is also the option of an eTorque Mild Hybrid System.
Despite the Ram 1500's more powerful optional engine, you might think that the performance is pretty similar between the 1500 and F-150 V6 and V8 engine options. Where the real difference lies is between the EcoBoost in Ford vs the EcoDiesel in Ram. The EcoBoost from Ford offers great gas mileage in a non-diesel engine. The Ram engine, however, is a true diesel engine. It gets superb mileage – up to 29mpg on the highway – by comparison, while the standard 2.7-liter F-150 engine only offers up to 26mpg on the highway.
Tow/Haul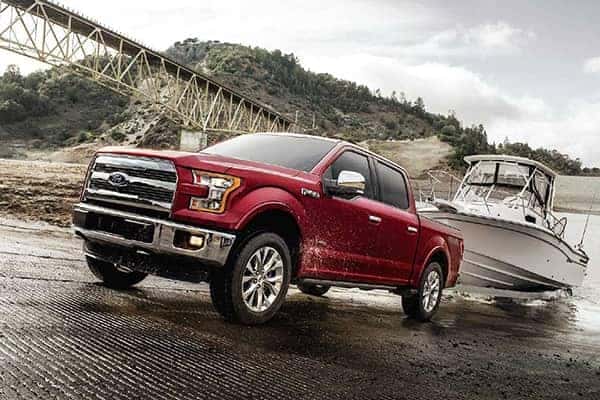 After power, what counts most for trucks is towing and hauling. So how much can these trucks handle? Well for the base engines it turns out things are pretty even. Both can handle between six- and eight-thousand pounds of towing with Ram's slight edge in hauling capacity still falling in the same 1800 and 1900 pound range as the Ford.
| | Ford F-150 | Ram 1500 |
| --- | --- | --- |
| Tow | 7600 pounds | 7320 pounds |
| Haul | 1820 pounds | 1900 pounds |
Although the max towing and hauling capacities of the Ford can be improved by paying the higher price of optional extra, the Ram 1500, offers the max haul capacity in the base engine model, so you can decide on options that give you more bang for your buck. Of course, if you absolutely need to get even more towing or hauling power than the Ram 1500, you can also consider an upgrade to the Ram 2500.
Max Tow Capacity
| | Ford F-150 3.5L EcoBoost V6 | Ram 1500 5.7L HEMI V8 |
| --- | --- | --- |
| Tow | 13,200 pounds | 12,750 pounds |
| Haul | 3240 pounds | 1720 pounds |
Reliability
Both the Ford F-150 and Ram 1500 offer the following warranties:
3-year/36,000-mile bumper-to-bumper warranty
5-year/60,000-mile powertrain warranty (gas engines)
The Ram 1500, however, goes a step further with a best-in-class warranty that offers a 5-year/100,000-mile powertrain warranty on the diesel engine – unsurpassed in its class.
Functionality
If your truck's layout isn't right, you won't be able to haul enough cargo to meet that haul capacity. The Ram 1500 each has plenty of bed options that compare favorably to the F-150.
Regular Cab Bed Options
| F-150 | Ram 1500 |
| --- | --- |
| 6' 6" bed | 6' 4" bed |
| 8' bed | 8' bed |
Crew Cab Bed Options
| F-150 | Ram 1500 |
| --- | --- |
| 5' 6" bed | 5' 7" bed |
| 6' 6" bed | 6' 4" bed |
Bed length isn't the only factor in a truck's functionality. Both the F-150 and The Ram 1500 acknowledge this fact in their design. The F-150, for instance, has a flat floor that makes it easier to fit loads of boxes into your bed. In addition, you can purchase stowable loading ramps that fit in the lip under the bed for loading of wheeled equipment.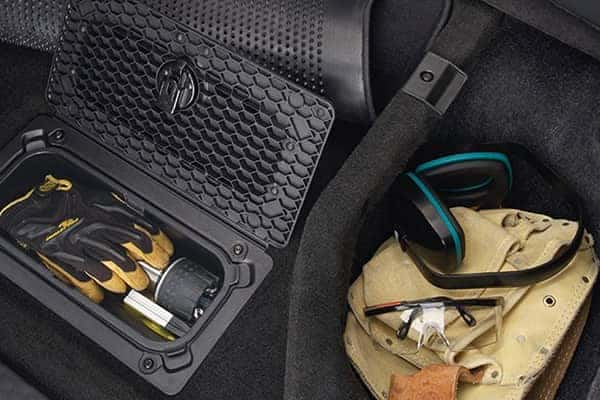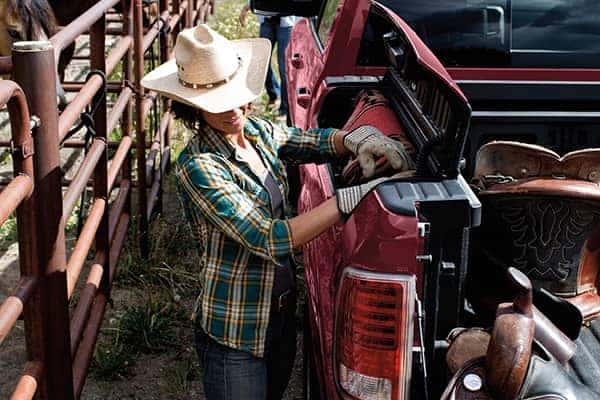 The Ram 1500 has thought out functionality even more thoroughly. For instance, throughout the truck you'll find "small storage". Crew Cab models also feature in-floor storage and the RamBox: a lit, drainable, locking storage system built into the side of the truck bed for high-versatile storage needs. Store anything from cold drinks to power tools in this compartment.
Comfort and Technology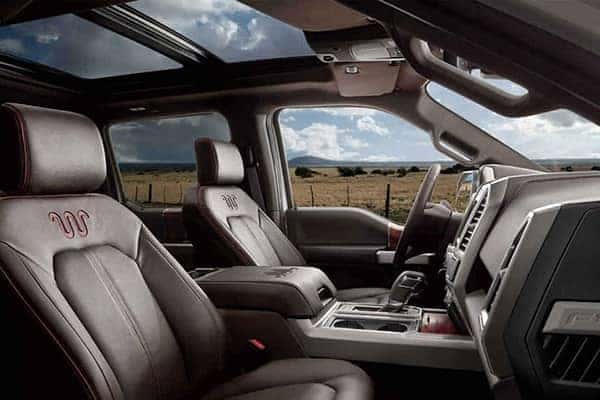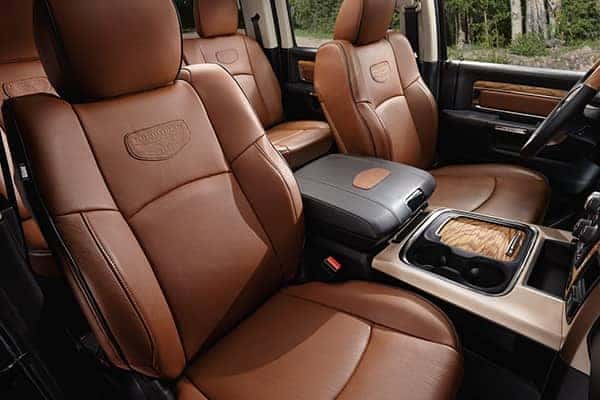 The Ram 1500's sleek, luxurious interior is durable enough to stand up to everyday wear. Choose from cloth or leather seats, a heated steering wheel, or include real wood accents for a touch of luxury. The F-150 is upgradable with leather seats and heated steering, however, additional features paired with the design and feel of soft-touch plastics give Ram the upper hand on interior comfort.
Technology
Trucks are rarely leaders in vehicle technology, but the Ram 1500 has worked to change this opinion in recent models. The Ford F-150 is a close second.
Ford's Sync 3 system with Bluetooth and smartphone-like touchscreen capabilities is widely known, and its 8-inch digital cluster information display is a nice addition. Also, new safety features improve its driving experience.
The Ram 1500's slightly larger touchscreen is part of its Unconnect system. The 8.4-inch system has both analog and touchscreen controls for ultimate versatile convenience. The gauge system for the Ram is also digital, an innovation which allows you to customize it based on your priorities.
Safety
The Ford F-150 and Ram 1500 both offer a host of new safety features, but the Ram offers more features.
| Features | F-150 | Ram 1500 |
| --- | --- | --- |
| Four-wheel Disc Anti-lock Brakes | Yes | Yes |
| Auto-on Headlights | Yes | Yes |
| Lane Departure Warning | Yes | Yes |
| Blind Spot Monitoring | Yes | Yes |
| Rear Back-up Camera | No | Yes |
| Park-assist System | No | Yes |
| Electronic Stability Control | Yes | Yes |
| Adaptive Cruise Control | Yes | No |
In crash ratings, the Ford F-150 received nearly the highest rating in every test from the Insurance Institute for Highway Safety, with poor marks for headlights and medium marks for LATCH ease of use. However, the Ram 1500 stood above for safety ratings by the Insurance Institute for Highway Safety named the Top Safety Pick for crew cab 2020 models. The 2020 Ram 1500 crew cab model had the highest rating on each criteria area with the exception of Medium marks on the headlights and LATCH ease of use.
Price
The Ram 1500 starts at $32,145 MSRP
The Ford F-150 starts at $28,495 MSRP
Conclusion
The power, efficiency, reliability, and comfort of light-duty trucks has never been better. Which truck is best for you depends on your specific needs. The F-150 sacrifices interior comfort for has higher towing/hauling capacity. The Ram 1500 has better storage, technology, and comfort options, but the F-150 offers a pricey upgrade to max towing/hauling capacity that you would need to upgrade to an Ram 2500 to match.
For more information about the Ram 1500, try reading our Ram 1500 Buyer's Guide. If you've made up your mind or would like to ask questions, contact Whitten Brothers of Richmond today. We've been in the community for over 100 years and would love to help find you the perfect truck.